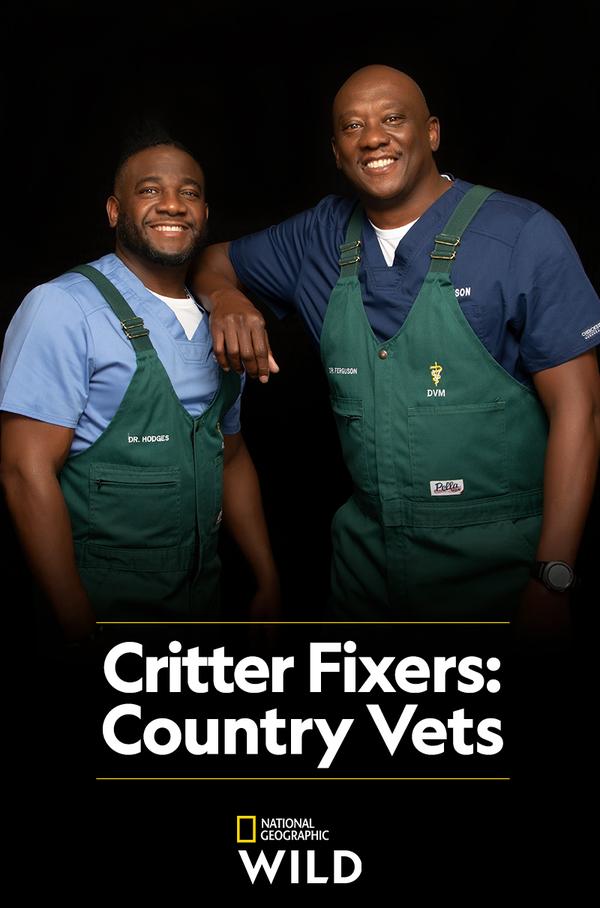 THE NEW SERIES TAKES VIEWERS TO GEORGIA FOR AN IN-DEPTH PORTRAIT OF VETERINARIANS REDEFINING CARE WITH HEART AND HUMOR
(LOS ANGELES) – March 10, 2020 – Nat Geo WILD premiered its newest series
CRITTER FIXERS: COUNTRY VETS this weekend. Airing Saturdays at 10/9c, the show follows lifelong friends Drs. Vernard Hodges and Terrence Ferguson who own and operate Critter Fixer Veterinary Hospital, located 100 miles south of Atlanta. Together with their loving staff, these physicians bring real heart, soul and a lot of humor to their treatment and care of more than 20,000 patients a year across their two locations. Between emergency visits to the office and farm calls throughout rural Georgia, this special team is constantly bombarded with unique cases. From a police dog with cactus thorns around her eye to a potbellied pig with life-threatening lacerations, for the Critter Fixer team, there is no such thing as "normal."
Clip: "Cleaning a Dirty Turtle" | Critter Fixers: Country Vets
Friends for more than two decades, Drs. Vernard Hodges and Terrence Ferguson own Critter Fixer Veterinary Hospital in Bonaire, Georgia. Drs. Hodges and Ferguson are breaking barriers while fixing critters, paving the way for black veterinarians in the south. The inimitable duo in CRITTER FIXERS: COUNTRY VETS is constantly bombarded with unique cases across their two locations, treating more than 20,000 patients a year. Drs. Hodges and Ferguson consider each patient family and are willing to do whatever it takes to make care attainable for patients of all kinds. When they aren't rushing to a case, they're impacting their local community through volunteering efforts and donating resources to inspire a new generation of vets.
"Nat Geo WILD is proud to be the leading network for entertaining veterinarian content. CRITTER FIXERS: COUNTRY VETS transport viewers to rural environments across the country to underscore the expansive range of animal care from the Deep South to the Midwest. With the new series, we're hoping to immerse viewers within the daily lives of two dedicated duos – each who are grassroots champions for the diverse animals within their region and the communities where they live and work," says Janet Han Vissering, senior vice president of development and production at Nat Geo WILD. "The addition of these highly experienced, authentic and inspiring credentialed doctors combined with their unique narratives are sure to evoke the deeply emotional human-animal connections our viewers expect from Nat Geo WILD – and at the same time remain wildly entertaining."
###
About Dr. Vernard L. Hodges
Dr. Vernard Hodges is the co-owner of Critter Fixer Veterinary Hospital. Raised in Peach County, Georgia, Dr. Hodges grew up around lots of animals and developed a passion early on for understanding and helping them.
In the hopes of becoming the next Jacques Cousteau, Dr. Hodges pursued his undergraduate degree in fisheries biology from Fort Valley State University. But soon after graduating, Dr. Hodges realized his passion for animals expanded well beyond aquatic species, so he enrolled at the Tuskegee College of Veterinary Medicine and graduated in 1997 with his DVM.
From there, he partnered with his best friend and vet school classmate, Dr. Terrence "T" Ferguson, to open Critter Fixer Veterinary Hospital. Almost 20 years later, the hospital has expanded to two locations and treats over 20,000 animals every year.
Dr. Hodges has a 15-year-old son, V.J., and several animals, including three dogs, Alexis, Bane and Koi; a gecko named Jameson; and a bearded dragon named Drake. He is very active in his community and mentors scores of area children through his nonprofit organization.
About Dr. Terrence Ferguson
Dr. Terrence Ferguson is the co-owner of Critter Fixer Veterinary Hospital. Growing up in rural Talbotton, Georgia, Dr. Ferguson discovered his caring nature for animals at a young age, bringing strays in off the streets and actually nursing a dog back to health after it had been hit by a car.
With his family's encouragement, he embarked on a career in veterinary medicine long before college, spending his summers volunteering at local veterinary clinics. Dr. Ferguson received his undergraduate degree from Fort Valley State University and later earned his DVM from Tuskegee College of Veterinary Medicine.
After graduating, he formed a partnership with his best friend since college, Dr. Vernard Hodges, and nearly 20 years later, Critter Fixer Veterinary Hospital is still going strong. Dr. Ferguson is married with two kids and three dogs, and he trains and mentors athletes in the community.