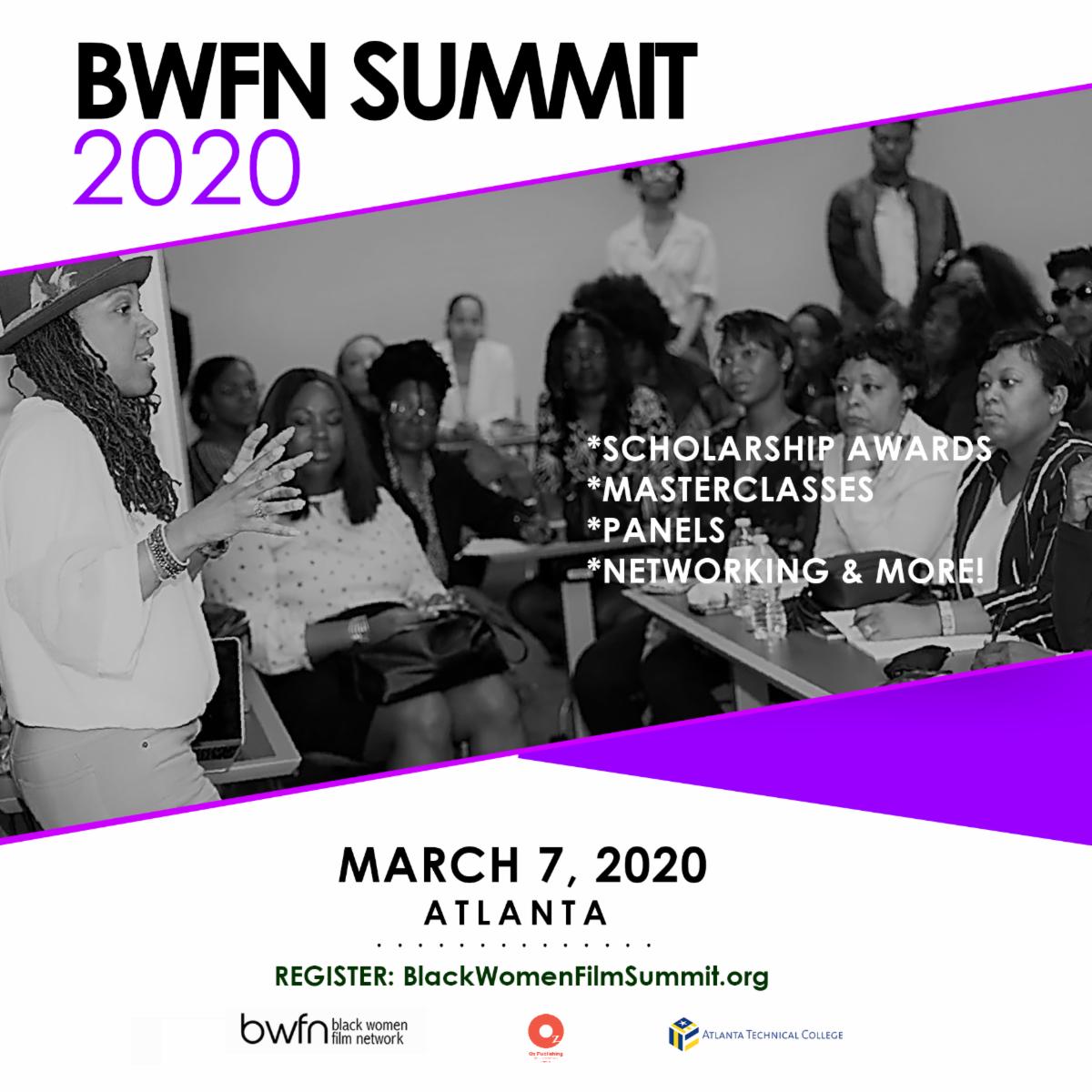 Featured speakers include: Terri J. Vaughn, Cas Sigers-Beedles, HaJ House,
Francesca Amiker, Ty Johnston, Tamra Simmons, Shante Paige, Je-Anne Berry,
Nicole Jones, Jessica Lane Alexander and more!
(ATLANTA) – February 21, 2020 – Black Women Film Network (BWFN) has announced that its 2020 BWFN Summit will take place Saturday, March 7, 2020 from 9:00AM to 4:00PM at Atlanta Technical College (1560 Metropolitan Pkwy SW, Atlanta, GA 30310) in Atlanta.
The one-day event will include a series of panels featuring content creators for Tyler Perry Studios, BET, VH1, WE TV, NBC, TV One, Lifetime and Turner. Organizations such as Diverse Representation, REEL Divas, and Blk Pod Collective have also joined the Summit as panel presenters.
Oz Magazine returns as a proud sponsor along with Atlanta Technical College, which has partnered with the BWFN Summit for 5 consecutive years.
Taking place during Women's History Month, BWFN will celebrate the work of women of color in film and television and provide attendees with networking opportunities, information and resources to further their careers in the industry. Just in time for International Women's Day, industry leaders will empower the next generation of storytellers with master classes, workshops and seminars.
The schedule for the 2020 BWFN Summit classes is as follows:
* 9:00 to 9:30 AM – Opening Welcome + Scholarship Awards
* 9:30 AM to 11:30 AM – A Conversation about Actor Do's and Dont's with Rhavynn Drummer – Award winning casting director, Rhavynn Drummer is taking her insight from working with prominent media companies like Tyler Perry Studios and hosting an in-depth conversation to help actors gain confidence in auditioning.
* 10:00 AM to 11:30 AM – Red Carpet Hosting Masterclass with Francesca Amiker – Gain tips on how to host and interview celebrities on the red carpet with 3x Emmy Winner, entertainment anchor and creator of Atlanta's #1 show The A-Scene.
* 10:00 AM to 11:30 AM – Podcasting & Producing with Je-Anne Berry & Nicole Jones – How to create engaging audio content. In this workshop, learn everything you need to start, record, edit, publish, grow, monetize and sustain your podcast.
* 11:30 AM to 1:00 PM – The Art of Digital Content Creation: How To Make Your Video Go Viral with Jessica Lane Alexander of POP'N Creative – Do you have a series, a trailer or just a new project that needs video views? Learn the tips and tricks of content marketing and launch your content successfully leveraging social media and even your own influencer network.
* 11:30 AM to 1:00 PM – Write Your TV Script in 30 Days with HaJ – In this workshop, writers will receive a step-by-step guide on how to develop and format your first TV script for the industry. Led by an Emmy nominated & award-winning creator, attendees will develop stories to impact mainstream media.
* 1:30 PM to 2:30 PM – Hair, Makeup, and Wardrobe Panel – Learn from experienced professionals on how to enter and be successful in the tv & film industry for hair, makeup, and wardrobe.
* 1:30 PM to 3:30 PM – How to Pitch to Networks with REEL DIVAS – Learn the art of pitching to networks and production companies from a creator perspective. Opportunity to pitch to REEL Divas – a collective of top black women from the film & tv sectors who aim to promote black writers, producers, directors and increase awareness of Atlanta as a production hub. Instructors include producer /founder of The Atlanta Pitch Summit, Ty Johnston, Co-EP of Black Ink Crew NY, Shante Paige and executive producer of Surviving R. Kelly, Tamra Simmons.
* 1:30 PM to 3:30 PM – BWFN Monologue Contest – Participants showcase talent to top professionals & win an opportunity for a meeting with a casting director. REEL Divas judges include writer/director Cas Sigers- Beedles and actress/producer/director Terri J. Vaughn.
* 2:30 PM to 4:00 PM – How To Survive As A Black Woman In The Entertainment Industry – Presented by Diverse Representation, esteemed panelists share their entertainment experiences and what you should know about the industry moving forward. The conversation is designed to elevate your career in entertainment.
About Black Women Film Network
Established in 1997, the Black Women Film Network (BWFN) was founded to prepare black women to enter the film and television industries. The organization seeks to preserve the voice of these women through film and educational programs that empower and inform. A 501(c)3 non-profit, BWFN provides student scholarships, hosts screenings and workshops, and honors individuals who have excelled in this difficult industry.